In 1988 – the same year Nasa's James Hansen warned Congress about the threats posed by human-caused global warming – water expert Peter Gleick wrote about the wet and dry extremes that it would create for California:
California will get the worst of all possible worlds – more flooding in the winter, less available water in the summer.
Three decades later, California has been ravaged by just this sort of weather whiplash. The state experienced its worst drought in over a millennium from 2012 to 2016, followed immediately by its wettest year on record in 2017. The consequences have been similarly extreme, including hellish record wildfires, narrowly-avoided catastrophic flooding at Oroville Dam, and deadly mudslides.
A study published last month in Nature Climate Change found that these wet and dry extremes will only worsen in California as temperatures continue to rise. As lead author Daniel Swain wrote:
most of California will likely experience a 100 – 200% increase in the frequency of very wet November-March "rainy seasons" … California will likely experience an increase of anywhere from 50% to 150% (highest in the south) in the frequency of very dry November-March periods … Since California is so dependent on precipitation during its relatively brief winter rainy season, even a single dry winter can quickly lead to adverse drought impacts upon agriculture and the environment.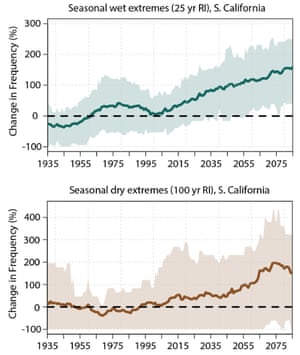 Last week, the California Office of Environmental Health Hazard Assessment also published a report detailing the indicators and impacts of climate change on California.
The most dramatic impacts include wildfires that are larger and more frequent, and the most severe drought since recordkeeping began. Underlying these events is a long-term warming trend that has accelerated since the mid-1970s. In addition, spring snowmelt runoff is decreasing, sea levels are rising, glaciers are shrinking, lakes and ocean waters are warming, and plants and animals are migrating.
In short, climate change will continue to have severe consequences for California, whose economy recently surpassed that of the UK to become the fifth-largest in the world. But the state has also become a leader in trying to minimize those climate damages.
To view the original and full version of this article, from The Guardian, please click here.